The device allows people to experience the effectiveness of pointing and calling procedure by showing the differences in the accuracy ratios when operation is conducted with/without the pointing and calling procedure.
Have you ever had this type of experience before?
While handling a hazardous material, an operator carelessly mixed a wrong chemical by mistake and caused an explosion.
Device Overview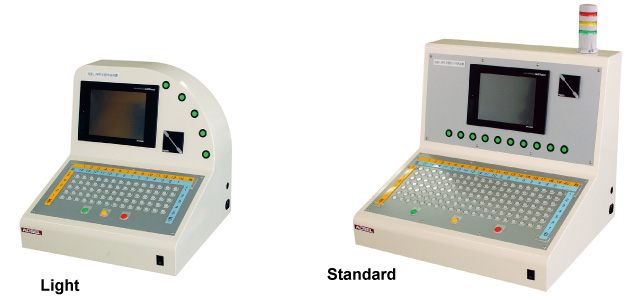 An operator follows an instruction on the screen and presses buttons with or without the pointing and calling procedure. By comparing the accuracy rates, he/she can understand the effectiveness of the procedure.
Since removable plates were employed to indicate vertical and horizontal numbers, it is possible to change the setting of number plates and the combination (background color) to avoid people to become accustomed to the testing condition.
A cover to hide numbers can be used as an option. This situation requires an operator to be more cautious and serious.
For a set of instructions/questions, difficulty can be selected from three levels, I, II and III.
Light
| | |
| --- | --- |
| Voltage | 100VAC |
| Outside dimension | Width 550 x Depth 540 x Height 540 (mm) |
| Weight | Approx. 25Kg |
Standard
| | |
| --- | --- |
| Voltage | 100VAC |
| Outside dimension | Width 700 x Depth 600 x Height 640 (mm) |
| Weight | Approx. 40Kg |